N00B BIF (round 3)
sent to: Amdy
Sweet swag! Southampton pint glass, Stone and magic hat coasters, Magic Hat Beer Soap(Contains real glitter lol) Ommegang keychain bottle opener, Southampton Publick house pen.
2x Brooklyn Black Chocolate Stout (want)
2x Hopslam (want)

1x Hoppin Frog Hoppin to Heaven IPA

1x Avery Collaboration Not Lotigation (want)
1x Southern Tier Creme Brulee Stout (want)
1x Mikkeller Black Tie Barrel Aged (want)
1x Mikkeller Chipotle porter (want)
1x Cigar City Guava Grove (want)
And just to add the icing to the cake...
1x Growler of Bear Republic Racer X Nomnomnom! I threw this in the fridge immediately so i can drink it later today! (want)
received from: Pellinore1
2x Two Brothers: North Wind Imperial Stout (fav style from a great brewery, haven't tried yet)

2x Half Acre: Daisy Cutter Pale Ale (can't wait to try these)

2x Bells: Porter

Shorts: PB&J

Shorts: Soft Parade

Shorts: Mystery Stout

Shorts: Hangin' Frank

Half Acre: Baume

Half Acre: Big Hugs

Terrapin: Double Feature

Bells: Batch 9000 (arrived broken)

Swag:

Half Acre T-shirt

Half Acre Pint Glass
---
Hats off to Barleywine - part 2
sent to: mikereaser
Founders Nemesis 2010

Shorts PB&J

Shorts Cup A Joe

Brooklyn Monster Ale 2008

Brooklyn Monster Ale 2010

Hair Of The Dog Fred Batch 74

Southampton Old Herb bottle 8/500

Sierra Nevada Bigfoot 2011

Firestone Walker 14 (16oz growler)

Captain Lawrence Rosso batch 3

Troegs Flying Mouflan

Pretty Things Our Finest Regards

Smuttynose Barleywine

Sierra Nevada Jack & Ken

Firestone Walker Abacus

a sweet Blue Point Brewing shirt
received from: CruisaC
22oz:

Deschutes - Mirror Mirror 2009 (want)

Three Floyds - Behemoth (unlisted want)

12.7oz:

Two Brothers - Bare Tree Weiss Wine Vintage 2008 (awesomeness!)

12oz:

Arcadia Ales - Cerial Killer 2010

Bell's - 25th Anniversary Ale (want)

Bell's - Third Coast Ale (want)

Central Waters - Bourbon Barrel Barleywine 2011 (want - and just YESTERDAY i reviewed a 2010 and said how much i'd like to try one fresh for comparison)

Avery - Samael's Oak Aged Ale 2010

Hair of the Dog - Doggie Claws (want)

Kuhnenn - Bourbon Barrel Fourth Dementia (want)

Duck Rabbit - Barleywine Ale (want)

Dieu du Ciel - Solstice d'hiver

11.2oz:

Traquair House Brewery - Traquair 2020 (can't wait to check this one out)

Swag:

Awesome Highland Brewing Company T-Shirt

Highland Brewing Poster for scottish ale with a bunch of dudes pissing that says "a wee bit different" with one guy in a kilt

Highland and Founders sticker
---
Good People Farm System BIF
sent to: jcartamdg
Wow!!! Came home to two amazing boxes from cosmicevan! I am speechless, seeing how this man destroyed my wants!

Big bottles
Mikkeller rauch geek breakfast

2011 Dark lord

Cantillon classic gueuze

Fantome Saison

New Glarus raspberry tart

New Glarus Belgian Red

Goose Island:

Madame rose

Lolita

Big John

Bourbon County Coffee

Bourbon County Vanilla

And a BOURBON COUNTY RARE!!!!
12oz bottles
3 year vertical of KBS

3 year vertical of bourbon county(07, 09,10) - Good thing I already have an 08 in my cellar!

DFH world wide stout

New Glarus

Unplugged apple ale

Unplugged enigma

Unplugged cherry stout

Spotted cow

And dancing man wheat
This is by far the greatest haul I have ever had, big thanks to cosmicevan for your extreme generosity!!!
received from: mnbearsfan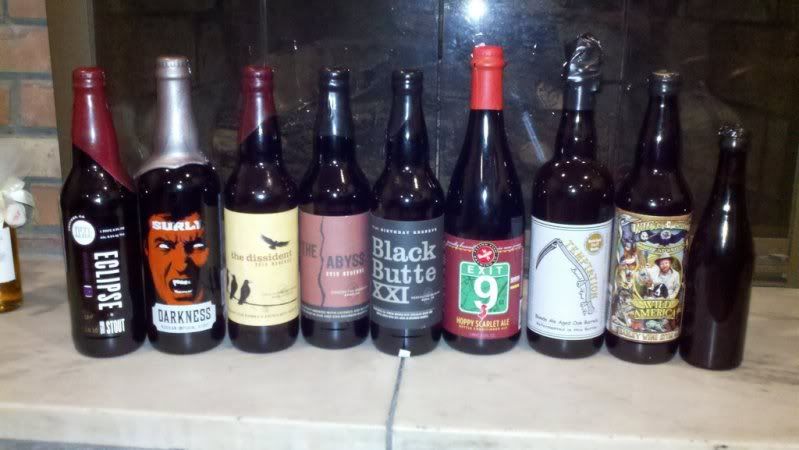 Box 1 (9 bottles, 9 wants):

Fifty Fifty Brewing Eclipse - Christian Brother's Brandy (2010)

Surly Darkness (2010)

Deschutes Dissident (2010)

Deschutes Abyss (2010)

Deschutes Black Butte XXI (2009)

Flying Fish Exit 9

Russian River Temptation (batch 004 x 1)

Half Acre Marty Stouffer's

Westvleteren 12 (dated 23.08.08)

Box 2 (11 bottles, 6 wants and a tshirt)

Firestone Walker 13

Pelican Pub & Brewery Mother of All Storms

Lost Abbey Serpent's Stout

Half Acre Meat Wave

Alpine Pure Hoppiness

Jester King Black Metal

Hair of the Dog Doggie Claws

Bell's Batch 9000

Deschutes Inversion IPA

Flying Fish HopFish IPA

Central Waters Brewhouse Coffee Stout

Alpine T Shirt!!!
---
Hype Train BIF

(1 of 3)
sent to: florida9
Goose Island: Madame Rose

(HPYE BEER)

Keegan Ales: Hurricane Kitty

Keegan Ales: Mother's Milk
This was an in person swap with florida9 (Kirk) and Kirk was kind enough to toss a few brews my way when we met up:
Short's: Key Lime Pie

Short's: S'mores Stout

Homebrew IPA (Warrior Chinook) x 2
received from: ThirstyHerf
Redbud: Cuvee Two (HPYE BEER)

Coop Ale Works: Territorial Stout

Coop Ale Works: Horny Toad

Coop Ale Works: Native Amber
---
Hype Train BIF

(2 of 3)
sent to: BeerAndBourbon
Captain Lawrence: Brandy Barrel Smoke from the Oak

(HPYE BEER)

Cigar City: Jai Alai

Half Acre: Daisy Cutter
received from: nhindian
VooDoo: Black Magick

(HPYE BEER)

Founders: Backwoods Bastard

Upland: Teddy Bear Kisses
---
Hype Train BIF

(3 of 3)
sent to: russwbeck
Captain Lawrence: Rum Barrel Smoke from the Oak

(HPYE BEER)

Keegan Ales: Hurricane Kitty

Keegan Ales: Mother's Milk
received from: Urbancaver
Upland: Cherry Lambic

(HPYE BEER)

Bell's: Batch 9,000
---
Growler Plus BIF
sent to: Retail1LO
Ithaca: Flower Power (64 oz growler)

Captain Lawrence (32 oz growler)

Cigar City: Jai Alai Cedar Aged IPA - Humidor Series (750 mL)

Smuttynose: Imperial Stout (22 oz)

Full Sail: Bump in the Night (22 oz)

Keegan: Hurriacne Kitty (12 oz)

Keegan: Mother's Milk (12 oz)

Keegan: Old Capital (12 oz)

Half Acre: Daisy Cutter (16 oz)

Surly: Bender (16 oz)

Surly Coffee Bender (16 oz)
received from: florida9
Goose Island: Honest Stout (64 oz growler)

Lost Abbey: 10 Commandments (750 mL)

Half Acre: Double Galactic Daisy Cutter (22 oz)

Three Floyds: Munsterfest (22 oz)

Three Floyds: Zombie Dust (12 oz)

Short's: Ale la Reverend (12 oz)

New Glarus: Cran-bic Ale

(12 oz)

New Glarus: Imperial Weizen

(12 oz)

New Glarus: Smoked Rye

(12 oz)

Southern Star: Buried Hatchet Stout

(12 oz)

Argus Brewery: Patron's Reserve

(12 oz)

Leinenliugel's: Big Eddy RIS

(12 oz)

Sand Creek Brewing: Double Chocolate Oatmeal Stout

(12 oz)

Atwater Block Brewery: Vanilla Java Porter

(12 oz)

Swag

2 Goose Island Coasters

September Beer List for Goose Island Clybourn Pub

Eurovafel wafers (SUPER tasty)



---
Growler Plus BIF (Round 2)
sent to: slvrmon82
Founders: 2011 Imperial Stout (32 oz growler)

Founders: 2011 Backwoods Bastard (32 oz growler)

Founders: 2010 Nemesis (32 oz growler)

Founders: 2011 Breakfast Stout

(32 oz growler)

Founders: 2011 Harvest Ale

(64 oz growler)

Founders Temporary Tattoos and stickers
received from: baconsausage
Hill Farmstead: James (32 oz growler)

Hill Farmstead: Ephiram (32 oz growler)

Hill Farmstead: George(32 oz growler)

Hill Farmstead: Everett (32 oz growler)

Alchemist: Heady Topper (16oz can)

Alchemist: Heady Topper (16 oz can)

Sebago Brewing Company: Lake Trout Stout (22 oz bottle)

Williamsburg Alewerks: Whit Ale (12 oz bottle)
---
Growler Plus BIF (Round 2.5)
sent to: Jefe73
Growler:

Captain Lawrence Smoked Porter - really, really love this brewery!

Bottles - ALL WANTS!!:

Ithaca Brute - massive want

Goose Island Juliet - really enjoy this beer

Pretty Things EIP - want!

Captain Lawrence Golden Delicious - again, massive want

Schlafly Reserve Imperial Stout '08 - tired of hearing me say massive want yet?

Cans - very excited to try this selection from Sixpoint

Sixpoint Diesel

Sixpoint Crisp

Sixpoint Righteous



received from: drabmuh



Growler:

DC Brau Natas - Stillwater collab - SUPER excited to try this!!!!

Bottles:

Bruery - Oude Tart (2011, I presume)
FiftyFifty - Eclipse 4 Roses (2011)
3F - Oude Geuze 2010 (should be WANT)
3F - Oude Geuze Vintage 2008 (WANT)

Cans:

DC Brau - The People Pale
DC Brau - The People Pale
DC Brau - The People Pale




---

Growler Plus (Round 3)
sent to: biglobo8971
GROWLER: Blue Point - White IPA
Founders - CBS
Founders - KBS 2011
Founders - KBS 2010
Founders - KBS 2009
Darkhorse - BA Plead the 5th
De Struise - Kabert
Goose Island - King Henry
SWAG: Blue Point Snifter, Blue Point Bomber Bag, some stickers

received from: biglobo8971
GROWLER: Bell's - Double Cream Stout

GROWLER: Town Hall - Masala Mama

New Glarus - Belgian Red

New Glarus - Raspberry Tart

New Glarus - R&D Golden Ale

Half Acre - Daly Double

Lift Bridge - Commander

Deschutes - 2011 Abyss

Goose Island - King Henry

SWAG: Odel Tulip
---

Math Trade #5 - Patrick Star (aka Dog Pissed on my Laptop) - Put #1
sent to: Desaparecido
Kuhnhenn - 2010 BB4D (4 pack)
Keegan - Hurricane Kitty
Keegan - Mother's Milk
Pretty Things - Jack D'Or


received from: xpimptastikx
Flossmoor Station - BA Hi Fi

Bell's - Batch 10,000

De Struise - 2008 Pannepot Reserva
---

Math Trade #5 - Patrick Star

(aka Dog Pissed on my Laptop) - Put #2
sent to: Normyk
Captain Lawrence - Rosso

Keegan - Hurricane Kitty

Keegan - Mother's Milk

Pretty Things - Jack D'Or




received from: surlytwinsfan
Surly - 5

Kern Brewing Company - Pumpkin







---

Math Trade #5 - Patrick Star

(aka Dog Pissed on my Laptop) - Put #3
sent to: Thewimperoo
Captian Lawrence - Cuvee de Castleton

Keegan - Hurricane Kitty

Keegan - Mother's Milk

Pretty Things - Jack D'Or




received from: Patchmaster
Three Floyds - Baller Stout

Bell's - Hopslam

Three Floyds - Alpha King

Surly - Bender


---
LNBA Secret Santa
sent to: robinsmv
Stone Brewing - Ken Schmidt / Iron Fist / Stone - Mint Chocolate Imperial Stout

Deschutes - Mirror Mirror (2009)

The Bruery - Oude Tart (2011)

Southampton -

Imperial Russian Stout (2012)

Goose Island

- BCBS (2012)

Goose Island - BCBCS (2012)

Hill Farmstead - Anna

Blue Point Snifter
received

fr

om: Hanzo
Hardywood Park Craft Brewery - Gingerbread Stout

Hardywood Park Craft Brewery - BA Gingerbread Stout

Williamsburg Aleworks - Cafe Royal

Williamsburg Aleworks - Barleywine

Epic Brewery - Big Bad Baptist

Bell's - Kalamazoo Stout

Bell's - Java Stout

Bell's - This one goes to 11

Bell's - Special Cream Stout'

Bell's - Expedition Stout

Bell's - Hell Hath No Fury Ale

Evil Twin - Imperial Biscotti Break

Avery - Rumpkin

Hardywood Park Craft Brewery - GBS Glass
---
Winter Glassware BIF
sent to: funkyaudio
Captain Lawrence tulip

Captain Lawrence taster

Duvel tulip (Belgium comes to cooperstown)

Brooklyn Brewery tulipy snifter

Captain Lawrence Mother Barrel
received

fr

om: yeahnatenelson
Cantillon Tumbler

Cantillon / Dieu du Ciel Zwanze / Peche 2012 day

Pipeworks Snifter

Pipeworks Berliner Glass

WLV t-shirt